SOFTWARE PAGE
____________________________________
Supertone VSTi
Free VSTi made by Jason Morin with the Maize Sampler.
Contains samples from the Supertone reed organ that is part of my Reed Organs sample set. I recorded it with 2 different microphones including a shotgun mic, the samples in the VSTi are those recorded with the regular mic.
There are less samples than in the sample set.

In the sample set, each of the 25 keys (from C3 to C5) was sampled and included.

In the plug-in, 5 samples are used mapped to roughly 5 keys each.

Even with less samples it is very playable and enjoyable.

The fan noise and powering up samples are also not included.


Download the Win 32 bits version
HERE
Download the Win 64 bits version
HERE

View or download the PDF doc HERE

For more organ fun, check out the full version of the
Reed Organs sample set.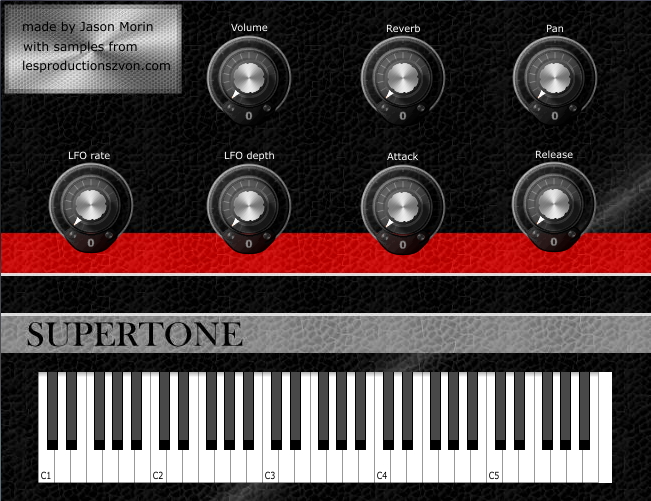 ____________________________________
Baby Piano VSTi
Free VSTi made by Jason Morin with the Maize Sampler.
Contains the natural samples of my Baby Piano free sample set. This means that the Baby Piano VST corresponds to the "Real white keys" program of the free set, the real acoustic Baby Piano mapped from G3 to F5 only on white keys. The pitch heard does not match the key pressed except for G3 and it has velocity layers.
Download the Win 32 bits version HERE
Download the Win 64 bits version HERE
Featured on the cover DVD of Computer Music magazine (issue 170): "Every one (note) has its own unique and haunting timbre".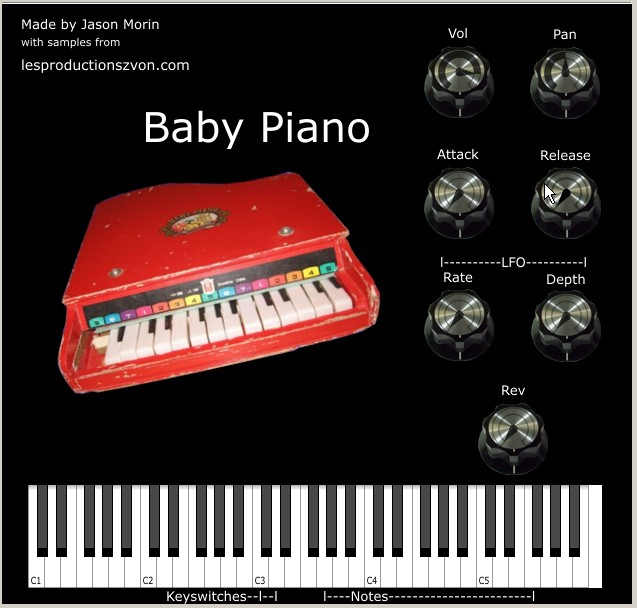 ____________________________________
ZAMP 1.3
ZAMP is a freeware simple VSTi sample player, it can load and play 3 wav files simultaneously. It was exclusively designed for Les Productions Zvon by Psychic Modulation and is based on their Cortex drum sampler. Zamp is for Windows. Download it HERE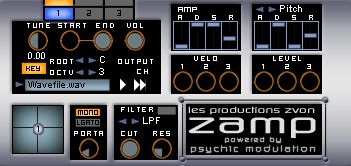 Main Features:
- VSTi plugin, 2 versions included (2 DLLs), one with a single stereo out and one with three stereo outs
- Can load and play up to 3 samples simultaneously
- 1 amplitude envelope and 1 pitch envelope
- Each sample has its own tuning, start and end points, loop, reverse, volume and panning controls
- Each sample has its own velocity sensitivity control
- Mixing Grid for the samples
- 3 randomizers for each wavplayer, they are accessed by clicking one of the four 'screws' around the name
_____________________________________
QUAD ZAMP 1.1 "Download of the Month in December 2005 Electronic Musician magazine" (link)
Quad Zamp is a one-shot/drum VSTi sample player, consisting of four 'Zamp' style multi wav players, 12 wavplayers in total. Each wav player is assigned to a certain key, from C2 to B2. This can be customized with the note selectors (bottom right hand corner of each wavplayer). When you press a key that is assigned to a wavplayer, a small LED lights up right above that wav, so you can quickly find out which key controls which wavplayer. More info in the readme included with the download. Also includes samples from the IYTTIW, the Prepared Rhodes Light and the Prepared Rhodes Light and Clean sample sets with ready to use kits.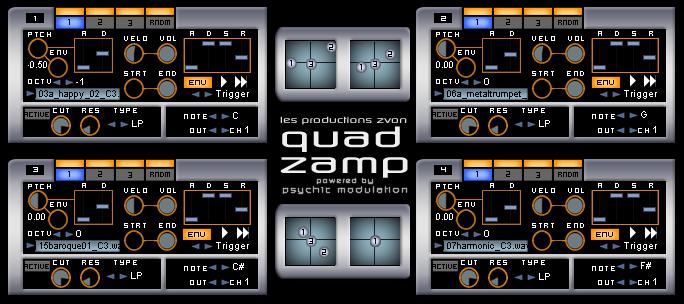 Quad Zamp comes in two versions. The single audio out version, Quad Zamp free, is freeware. The multiple audio outs version, Quad Zamp 1.1, is not freeware. It is available for free (but not freeware) with any new purchase of Les Productions Zvon's sample sets (not retroactive) or with Psychic Modulation Neurosynth pack. Quad Zamp is for Windows.
Download Quad Zamp free (single audio out version) HERE
Quad Zamp manual (HTML) is included in the above download, the pdf version can be downloaded from HERE
Besides the obvious "Quad", the main difference between Zamp and Quad Zamp is that in Zamp samples are mapped across the keyboard (and transposed). In Quad Zamp, they are assigned to a single key.
To get the 4 audio outs version, you only have to buy one of our sample sets.
Visit our support forum on KVRaudio for tutorials and feedback:
http://www.kvraudio.com/forum/viewforum.php?f=58
_____________________________________

© 2005, 2011 Les Productions Zvon, all rights reserved